Read up on Huff, Powell & Bailey
CVN Georgia's Defense Attorney of 2017 Earns Title With Pair of Major Med Mal Wins
Some of Georgia's best defense attorneys won high-stakes, CVN-covered trials throughout the state this year....
Some of Georgia's best defense attorneys won high-stakes, CVN-covered trials throughout the state this year. However, CVN Georgia's 2017 Defense Attorney of the Year set himself apart with a pair of wins in medical malpractice cases this summer.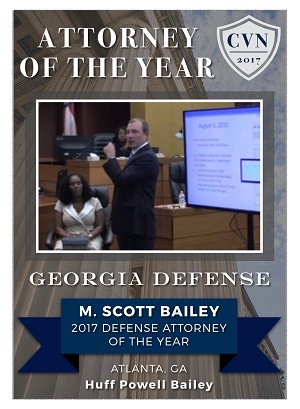 The trials: Moradov v. Atlanta Radiology Consultants and Cox v. Fatemi
The verdicts: Jurors in the Moradov trial cleared Bailey's client, an Atlanta-area radiologist of malpractice for the cancer death of a 51-year-old man. In Cox, Bailey won a verdict for a physician accused of negligence in the heart attack-related death of a Turner Sports director.
The details: In Moradov, the plaintiff, the mother of Shlomo Moradov, claimed a pair of doctors, including Bailey's client, radiologist Dr. William Bottoms, failed to properly diagnose a kidney growth that ultimately spread as cancer and killed her son.
Bailey, however, argued evidence showed it was impossible to link the cyst-like structures Bottoms saw on imaging to Moradov's eventual cancer. "Correlation does not equal causation. The fact that Mr. Moradov had these cysts does not prove his cancer came from them," Bailey said. "Just because two things happen together near in time does not mean one caused the other."
Jurors cleared Bottoms, as well as the other physician, at trial in which the plaintiff requested up to $8 million in damages.
In Cox, the widow of Tom Cox, a Turner Sports director of remote operations, claimed Bailey's client, Dr. Arezou Fatemi, was responsible for her husband's death by failing to properly diagnose acute coronary syndrome, or ACS.
However, Bailey argued the symptoms Cox suffered from when Fatemi saw him, days before his heart attack, were more consistent with a virus, and Fatemi ruled out ACS and other issues as part of a thorough exam.
In his closing argument, Bailey noted Fatemi's diagnosis was based in part on the fact that Cox didn't suffer from the classic ACS symptoms of chest pain or shortness of breath when Fatemi treated him, but did complain of consistent body aches—which do not signal ACS. "You cannot get away from that," Bailey said. "Those two things point directly away from acute coronary syndrome."
Jurors needed less than three hours to clear Fatemi.
Bailey's adept trial work set up a stellar summer for the attorney in the courtroom and earned his place as CVN's Georgia Defense Attorney of 2017. Notably, the win represents a three-year reign for Atlanta firm Huff Powell Bailey. Daniel Huff received the award for 2015, while Page Powell took the title last year.
(Full Article: https://blog.cvn.com/cvn-georgias-defense-attorney-of-2017-earns-title-with-pair-of-major-med-mal-wins)